Professional Cabinet Installations to Simplify and Organize Your Home
Cabinets aren't just for kitchens anymore. Creative installations of cabinetry are becoming a popular and practical trend. No matter what kind of home or office you have, cabinets can quickly transform any room. Floors In Styles has a team of professional cabinet installation experts who can help you find the perfect cabinets for your traditional or creative designs. We love exploring new ideas with our clients and creating rooms that not only look great but are useful too. Here are a few new ideas for cabinetry in your home.
Mudrooms & Entryways-

If your foyer is a chaotic mess, adding some

creative cabinetry

can make all the difference. Smaller cabinets can multi-task as both a shoe organizer and seating. A couple cabinets can store all those last minute items you grab on your way out, like umbrellas, coats, and sports equipment.
Closet Spaces-

Cabinets in the closet will help keep your home organized. Your closet will be clean and easily accessible. You can also store family favorites and holiday decorations in some of these areas if you have the space. Cabinets in the closet will clean up your bedroom as well. When everything has a place, you don't have to waste time looking for it or constantly picking it up. You'll end up saving more time too.
Laundry Rooms-

A few well-placed cabinets in your laundry room can cut down on dirt and dust while keeping detergents, hangers, and even everyday tools handy but tidy. Consider adding a cabinet area with a folding station on top of the

countertops

, you'll be amazed at how much time you save. This will also cut down on losing clothes.
Garages-

Workspaces in garages have evolved into "man-caves". These spaces are very popular right now. Adding a few floor and wall cabinets will truly

upgrade your garage

. They will provide a storage system and work area. Add a few of your own personal touches and your garage can suddenly become a retreat. Plus, the extra storage will cut down on clutter and actually open up your garage space.
Study or Home Office-

Keeping papers and important documents safe and organized can be a big chore. Installing some cabinets in your home office or study can help you store all your important items securely and discreetly. They also add a touch of sophistication and drama to these rooms.
Create a Reading Nook- Cabinets can also be used in alcoves, window areas, and sunrooms to create a relaxing reading nook. Use one cabinet area as seating and the rest as storage for books, covers, pillows, and even little snacks. This could soon become your favorite place in the house!

Design Unique Looks With Custom Cabinetry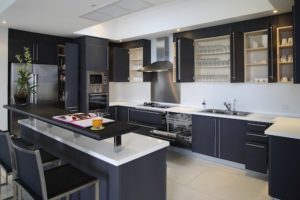 While we don't suggest adding cabinets to every room, a few additions here and there can really make a difference. Cabinets quickly destroy your clutter and make your home a warm and welcoming spot. Call us today at 239-431-7920 and we can get your cabinets ready before your first holiday guests arrive! Or make an appointment online, we can't wait to hear from you!
Cabinetry is Everywhere
was last modified:
October 18th, 2016
byy