Flooring With a Personality All Its Own
Porcelain tile is already known for its versatility and longevity, but new techniques are making it even better. If you love the look and tone of wood flooring but are looking for something a little more durable, these new Pictart tiles are the answer. Porcelain tiles have a longevity and easy maintenance that homeowners and business owners love. Pictart is a new porcelain stoneware collection that blends the beauty and natural look of hardwood plank flooring with the durability and versatility of porcelain tile. Floors In Style has fallen in love with the possibilities of Pictart, we know you will too. We also offer a wide range of services to help you find the perfect match for your home, including: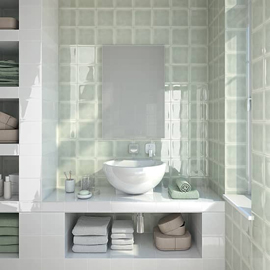 Bathroom Vanity Installations

Flooring Installations

Design Experts

Full-Service Showroom

Wide Variety of Styles, Materials, and Techniques

Locally Owned and Operated
Our professional and friendly staff can't wait to show you the beauty of a Pictart floor, stop by 4365 Arnold Ave Naples, FL 34104 in Naples Florida to take a look.
Customized Beauty with Individually Painted Touches
Pictart creates a truly unique and richly beautiful style in any room. This particular style of porcelain tile has some incredibly distinctive characteristics that truly set it apart from other flooring materials. Just take a look at these features:
Each board is unique with individually different strokes of paint on each piece.

One of the only concerns people have with vinyl or laminate wood styled flooring is the repeating pattern. Although the flooring is amazing, some people feel it lacks originality. Pictart gives you a beautiful floor without any repeating patterns.
Rich Design Textures-

Since each board has different strokes of paint, there is a deeper and richer texture to the feel of the flooring. Our

Floors In Style staff

can help you pick the a texture that suits your style perfectly.
Neutral Palette For Any Room-

These boards come in a beautiful neutral color range of natural hues. The colors can add warmth to a room or cool it down. The tones truly blend with the style of any room.
Natural Aesthetic-

Inspired by the deep beauty and varied tones of

banana leaves

, the Pictart style reimagines a natural look that will give any room the feel of a vacation resort. This series can give your home the look of a tropical paradise or a rustic retreat. Even better, you can mix and match boards to create a patchwork of incredible colors on your floor.
The different paint strokes on each board truly create an endless variety of choices for any flooring in any type of home or office.
Durability Blended with Beauty
Besides all the wonderful design options, Pictart boards come with all the incredible perks of porcelain tile flooring. Here are just a few advantages of using porcelain tile:
Scratch Resistant
Durable to Wear and Tear
Stain Resistant
Water Resistant
High-Quality Long Term Appearance
Easy Maintenance
Easy Cleaning
Color Fast
You can truly have it all when you choose one of these beautifully painted porcelain tiles.
Bring Home Flooring that Lasts
Pictart porcelain tiles are built to last and designed to create personalized living spaces. If you're looking for a unique and customized design for your home that will last for years to come, Pictart porcelain tile is an amazing choice. Floors In Style is here to help you choose and design your best flooring with this incredible options. Our showroom is stocked full of samples and product for you to look at. Call us today at 239-431-7920 or make an appointment online. We can't wait to get you started on a room you'll love showing off!